About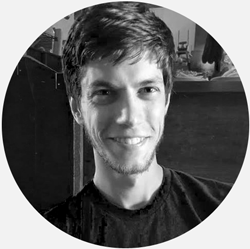 I am the proud son of a Midwestern hog farmer and like most people, I know what it's like to be chased by a deranged chicken through a rural Cambodian village. I've experienced the common, yet uncomfortable situation where you try to explain in a foreign language that it was actually the chicken's fault my motorbike crashed into your fence. Despite this typical upbringing, I believe that life is too unpredictable to be consumed by ordinary experiences. Whether it's transforming a lazy susan into a drinking game or using space robots to teach polynomial graphs, I am passionate about crafting engaging interactions for others to enjoy.
Skills & Proficiencies
Flash & Actionscript
Photoshop
Illustrator
After Effects
Unity & C#
Maya & Python
Cinema 4D/Blender
HTML/CSS/Javascript
My name is Michael Neumann and I am a multidisciplinary user interface artist & designer living in majestic Seattle, Washington. I enjoy both the creative and technological challenges of designing 2D and 3D content. A game designer with over 12 years of experience, I've won video game competitions as an indie dev and currently work for an EdTech company with over 40 awards in the industry for outstanding, innovative educational gaming software.

Visual Artist
I am a multidiscipliary artist with experience in 2D & 3D software, an eye for animation and a passion for user interaction.
Game Designer
With over five years of professional experience in the industry, I live and breathe game design. I love collaborating with developers and artists to create beautiful experiences.
Technical Guru
I've coded games, written prototypes and implemented assets across dozens of projects. I pride myself in being able to rapidly learn and master new tools and languages.